I'm getting my first apartment. I applied on Sunday and I'm hoping to hear back tomorrow on whether I was approved or not. Since this will be my very first apartment I don't really know the process but I love the place. It's 2 bedrooms and 2 bathrooms. I'm having a blast on pinterest, craigslist, and etsy planning my upcoming purchases.
I wanted to do an entirely second hand apartment where everything is used but I just can't do second hand fabrics that I can't launder so.....Some things will be purchased new, i.e., couches, upholstered chairs, etc.
Here's what I'm loving and inspired by so far. (If only I could afford all of it...)
Living Room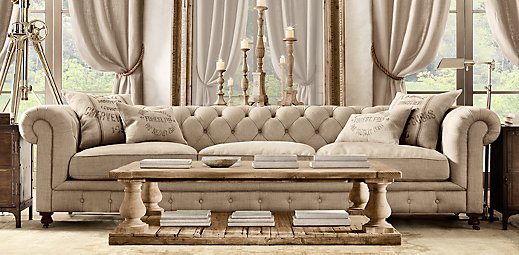 Source: Restoration Hardware
Source: Tamara Styles
Dining Room
Source: West Elm
Source: Pottery Barn
Bedroom
Source: Calvin Klein
Source: ZGallerie via Tamara Styles
I am also loving a few DIY projects that I've found online. Like these:
Floating Shelves
Via: Young House Love
Scrabble Pillows
via Pinterest
Striped Curtains - Must have these!!!
Via Pinterest
Scrap Room Inspiration
Via Pinterest
So I have lots of work to do making curtains, and scouring Houston for furniture that looks like the designer brands but cost much MUCH less.
Ciao & hugs,
Angee Lee